One Technology. Multiple Applications.
Dental/Dr. Office
The prevention of COVID-19 in the dental office requires a unique approach. Dentists, hygienists and assistants work in close proximity to their patients and many procedures produce aerosols in the mouth which can increase the risk of transmission from an undiagnosed COVID-19 patient. UVC treatments surface and air treatments are a nessisary tool in your infection control protocol. Check out where dentist rate in the COVID-19 risk catigory below.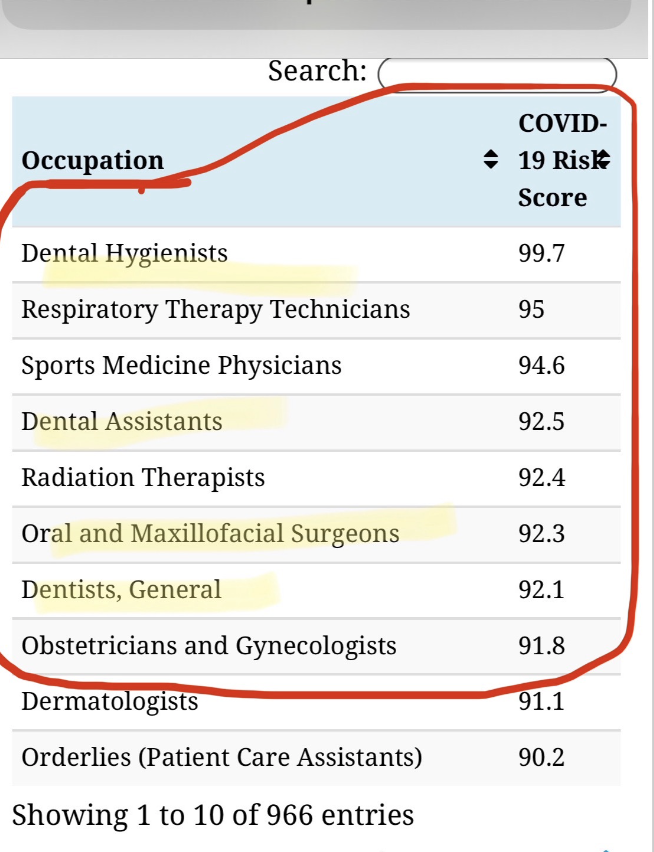 Check out one of our proud customers using the Safezone 850M9 as part of their Infection Prevention Protocol. UVC is an essential tool to help fight the spread of pathogens including COVID-19.
Schools
UVC Cleaning Systems provides the perfect solution to help the reopening of schools for the 2020-2021 school year.
Contract Environmental Services
UVC Cleaning Systems requires no capital expenditures for large and small cleaning service companies. Our Safezone 850M9 model is ideal for transportation in vans or trucks
The Safezone product line has been designed for going up and down staircases and movement throughout a residential or commercial property. The unit are available in multiple voltage ratings and multiple amperages for any global environment.. The safezone 850M9 has been specifically desigend to use 1/2 of the availbe power off of a standard outlet. That way you can use two units and maximize your efficiency. You will minimize labor cost by decontaminating multiple areas simultaneously. UVC Cleaning Systems provides a variety of purachase and options that can fit your business model.
Institutions
The hospital environment is the primary target for UVC disinfection services. This is where multi drug resistant bacteria exist and where UVC treatments can be most effective. These hospital associated infections (HAI) present a significant problem to the worldwide healthcare systems. Below is data from the Center for Disease Control (CDC) in the USA:
The CDC healthcare-associated infection (HAI) prevalence survey provides an updated national estimate of the overall problem of HAIs in U.S. hospitals. Based on a large sample of U.S. acute care hospitals, the survey found that on any given day, about 1 in 25 hospital patients has at least one healthcare-associated infection. There were an estimated 722,000 HAIs in U.S acute care hospitals in 2011. About 75,000 hospital patients with HAIs died during their hospitalizations. More than half of all HAIs occurred outside of the intensive care unit.
Major Site of Infection

Estimated
Number

Pneumonia

157,500

Gastrointestinal Illness

123,100

Urinary Tract Infections

93,300

Primary Bloodstream Infections

71,900

Surgical site infections from any inpatient surgery

157,500

Other types of infections

118,500


Estimated total number
of infections in hospitals

721,800
Type of Healthcare-Associated Infection

Estimated
Number

Catheter-associated urinary tract infections (wards and critical care units)

54,500†

Central line-associated bloodstream infections (wards and critical care units)

30,100†

Surgical Site Infections associated with
10 surgical procedures

53,700†

Hospital-onset Clostridium difficile infections (all hospital locations)

107,700±
Estimates of Healthcare-Associated Infections Occurring in Acute Care Hospitals in the United States, 2011 Estimates of Selected* Healthcare-Associated Infections Occurring in Acute Care Hospitals, 2011± or 2012†
Entrepreneurs Startup
Chemical disinfectants are not enough to battle the bacteria and viruses found in many different work environments. UVC surface and air treatments can be used as a second measure to combat dangerous pathogens. There are many businesses that cannot afford the equipment or do not have the personnel to operate the equipment to add this valuable second layer of cleaning. This is where entrepreneurs can play a role in expanding the use of UVC decontamination in athletic facilities, nursing homes, assisted living centers, daycare centers, dermatologist and doctors offices. UVC Cleaning Systems flexible lease programs make it possible for startup companies to get into this market.

Biological Laboratories and Industrial Applications
UVC Cleaning Systems is not just for hospitals. Many laboratories in the biotech field can benefit from UVC irradiation of pathogens in their environment. The wall mount W15 model is perfect for an enclosed space that is subjected to hazardous materials on a daily basis.
UVC Cleaning Systems is an effective tool to reduce e-coli and listeria in the food packaging industries. Using several linked devices can decontaminate a large area in minutes, creating confidence that you are producing a quality product and not creating a hazard for your employees and customers.
Nursing/Rehab
For rehabilitation centers, assisted living, memory care, and nursing homes UVC Cleaning Systems offers limited use lease plans. These are ideal for facilities that will benefit from an industrial strength tool like the UVC Cleaning Systems M15. This product brings a second layer of cleaning security that is critical to combat the pathogens that attack immune deficient residents at a critical time in their life. Breaking the chain of infectious pathogens within the close-knit community is possible with the right tools at your disposal.