M20 and M15 UVC Towers
The M20 and M15 UVC decontamination devices are
specifically designed for maximum effectiveness and ease of use.

UVC Cleaning Systems mobile devices are designed to be safe, effective, and durable with Teflon encapsulated emitters for safety. Stainless steel and impact resistant thermal plastics construction. With handles on all four sides that act as crash bars and can be used to pick up and move the device from all directions. All UVC Cleaning Systems mobile devices are shipped fully assembled.
The M20 device has been proven to treat Staphylococcus Aureus at 16 ft (5m) in 10 minutes and reduces the bacteria by log 4 (99.9967) in a single treatment (see test report for details). Larger rooms and multiple areas can be disinfected by wirelessly linking up to 8 devices. This means that up to an 8600 sq ft (800 sq m) area can be treated with UVC in a single treatment with 8 units.
The M20 and M15 devices uses 360 degree motion sensing with passive infrared (PIR) and ultrasonic technologies to create a safe operating environment. UVC energy is hazardous to skin and eyes and should not be operated when occupants are present.
Multi colored LED are used on the mobile device and the remote control to designate operating status. An audio alarm is activated at the start of every treatment. All warning labels and markings are in regional language and English.
UVC Mobile Casters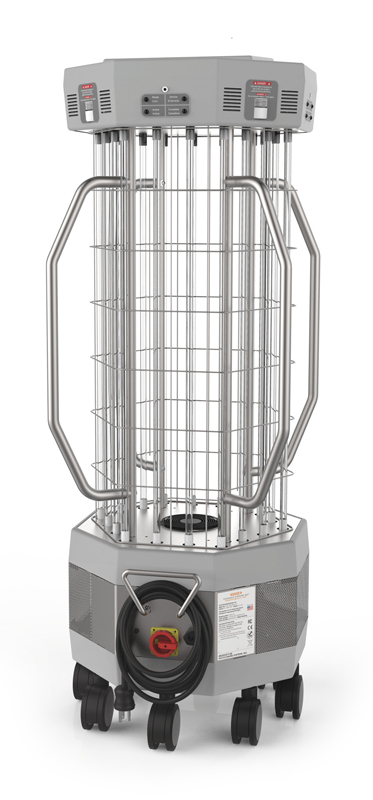 UVC Mobile Handcart