M15/20 Towers
The M15/M20 Mobile UVC decontamination device is specifically designed for maximum effectiveness and ease of use to meet your infection control needs.
The M15/M20 have been specifically designed for the institutional environment.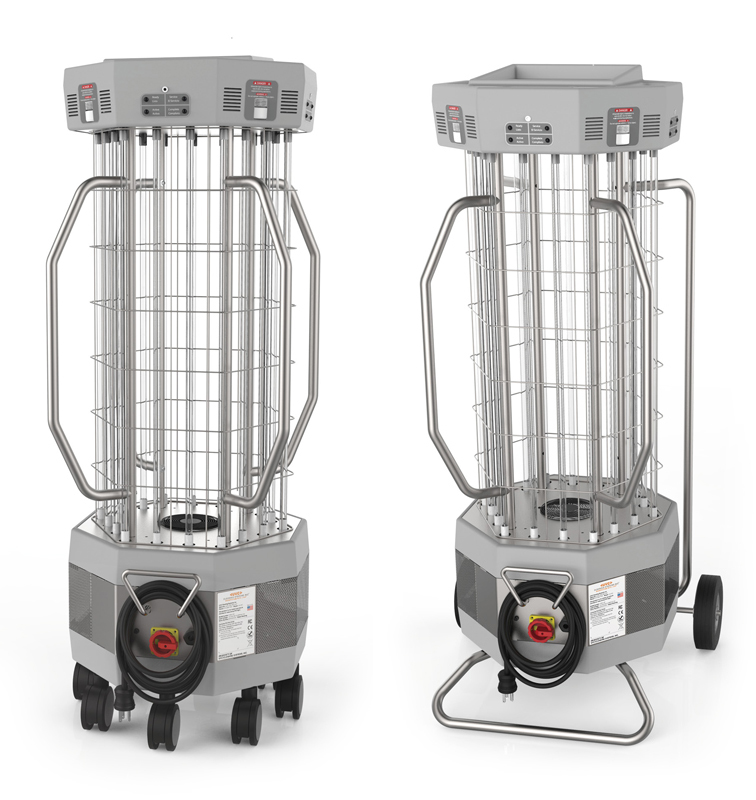 The M15/M20 is a family of products that is one of the most powerful systems on the market today. The M15/M20 utilizes a standard 15 or 20 amp outlet to provide world-class output and includes many features not available on the other UVC towers. Intelligent Dosing using onboard UVC sensors delivers a calculated log 4 kill rate targeted dose of energy that is consistent and repeatable.
Dual technology motion detection sensors keep the surrounding areas safe. The user-friendly remote control can be operated quickly and effectively. Additionally, you can track your systems with our unique RFID/SD Card system to generate cloud-based statistics. With multiple mechanical movement configurations, the M15/M20 product will provide the necessary output power to quickly and effectively eliminate pathogens while tracking your coverage, improving your decontamination needs.
Configurations:
Handcart or Caster
M15 (Amps) or M20 (Amps)
15 or 18 Lamps
Hospital or Commercial grade
120 V or 240 V
Features:
Onboard Data Tracking
Intelligent Dosing
360 Degrees of Motion Detection
Link up to 8 Units
Integrated Emergency Stop and Lockout Switch
Cooling Fan
Caster Unit Specifications:
Height: 60.5"
Depth: 21"
Width: 22"
Weight: 124 lbs
M15 Electrical: 120 VAC @ 15 A or 20 A, 60 Hz
M20 Electrical: 240 V @ 13 A, 50 Hz
Handcart Unit Specifications:
Height: 60.5"
Depth: 26"
Width: 27.5"
Weight: 126 lbs
M15 Electrical: 120 VAC @ 15 A or 20 A, 60 Hz
M20 Electrical: 240 V @ 13 A, 50 Hz

UVC Product Catalog
UVC M15/20 Specifications Sheet