Far Field 222 nm Can and Wall Units
Our new and exciting Far Field 222 nm Can and Wall units are the future of decontamination. This UV disinfection light is effective and safe for people to be in the presence of.
The FF 222nm Can and Wall units have been specifically designed for any indoor environment where people gather.
The Far Field 222nm technology market continues to evolve, and UVC Cleaning Systems Inc. is on the forefront of innovative UVC lamp designs. The 222 nm UV wavelength products can now be employed to apply continuous UV decontamination energy while allowing people to operate as usual within the environment.
Our two unique models provide distinctive patent-pending features that no other product on the market can match. Together, our product offerings are unchallenged, providing 360-degree coverage of continuous Far Field UVC to disinfect surfaces and air in your facilities.
The Far Field Ceiling Can is extremely flexible and easy to mount into a wallboard, within a troffer, or any application up to 1/2" thick. Our custom removable lens uses no replacement hardware and changing lamps is simple. A patent-pending design feature of our unique system enables users to radially pivot the lights to focus them into areas where customers prefer a high level of coverage.
When it comes to UVC lamps, our highly flexible Far Field 222nm Wall Mount is the perfect solution to fit into your vertical surfaces. With a wide 60 degrees irradiation pattern, it allows you to harness targeted UV irradiation and is highly effective in decontaminating a large area.
As a leading commercial disinfection UV equipment supplier, UVC Cleaning Systems provides a variety of options to fit your business model. Reach out now to learn more about decontamination with UV radiation, or read on below for more details about our Far Field 222 nm Can and Wall Units.
Why use Filtered 222nm Far-UVC Light in Occupied Spaces?
With the rise of SARS-CoV-2, common chemical disinfectants are not always enough to battle bacteria and viruses. To keep your work environment safe, eliminate hazards, and decontaminate large areas in minutes, consider innovations like ultraviolet light and pulsed xenon lamps.
UVC Cleaning Systems offers industrial-strength sanitation systems for a variety of facilities and uses. Today, UV inactivation is used in various biomed products and applications to preserve surface proteins and combat drug-resistant bacteria. UVC decontamination light is also used in athletic facilities, nursing homes, assisted living centers, daycare centers, schools, factories, operating rooms, doctors' offices, and more.
Our wall-mounted models are perfect for enclosed/occupied spaces. Here are a few reasons why:
Does Not Affect Eyes
It's true that some UVC lamps generate ozone, and UVC radiation refers to the highest energy portion of a UV radiation source. The proteins on the top layers of the cornea of our eyes absorb 222nm far-UVC. However, the 222nm wavelength does not penetrate these tissues to depths associated with cataracts, photokeratitis, and other eye conditions.
Does Not Affect Skin
In addition to not affecting the eyes, 222nm far-UVC also does not negatively affect the skin when used following safety guidelines. Filtered 222nm does not affect living skin cells because it does not penetrate beyond dead skin cells of the stratum corneum.
The Importance of a Filter
The filtered 222nm technology utilizes an excimer lamp that employs a specially designed short-pass filter to remove harmful UV wavelengths, resulting in a narrow band of UV centered at 222nm. This unit also helps to improve indoor air quality!
No Mess
With a convenient UVC lamp source like the Far Field 222 nm Can and Wall Units, you won't have to deal with chemical residue from alternatives like liquid disinfectants.
Appropriate Dosing
When investing in any UV lights, it's important to set and control the right UV dose for your needs. The level of reduction of pathogens will depend upon the dose of ultraviolet radiation delivered. This is measured in mj/cm2, a measure of radiant energy per unit area. At 222nm, relatively small doses of UV radiation over time are needed to inactivate bacteria and viruses and reduce the pathogenic bioburden on the surface that is in contact with the UV light.
Convenient UV Lamps for Ultraviolet Germicidal Irradiation
When properly utilized, UVC radiation becomes an essential tool to fight the spread of airborne viruses and pathogens including SARS-CoV-2 and influenza viruses. UVC Cleaning Systems creates a variety of UV sterilization solutions for surface disinfection and air disinfection purposes.
Check out specs and other resources below, or contact us now to learn more about the FF 222nm Can and Wall UV disinfection light options!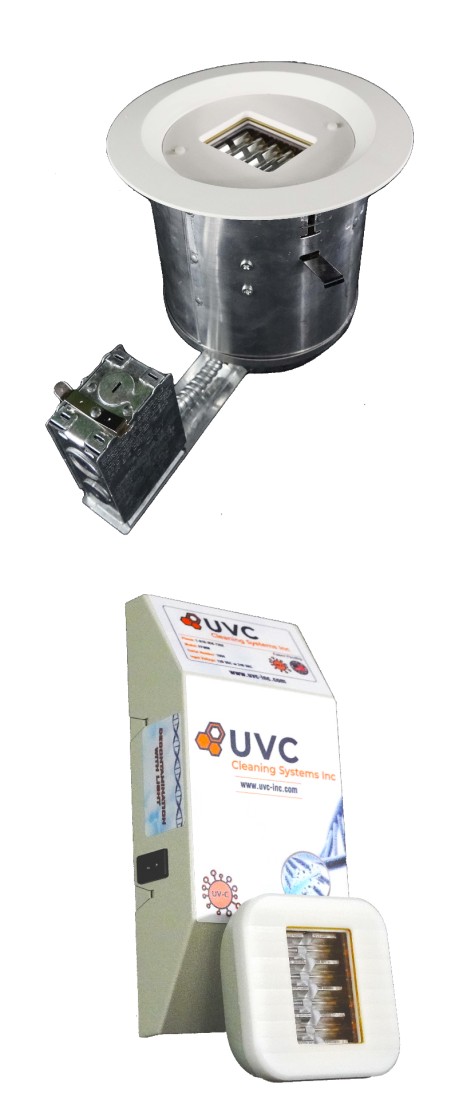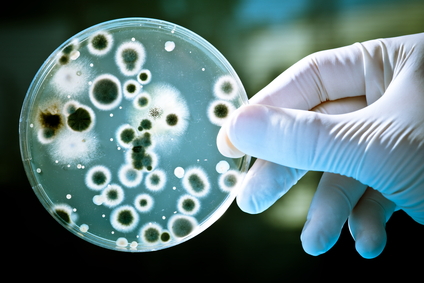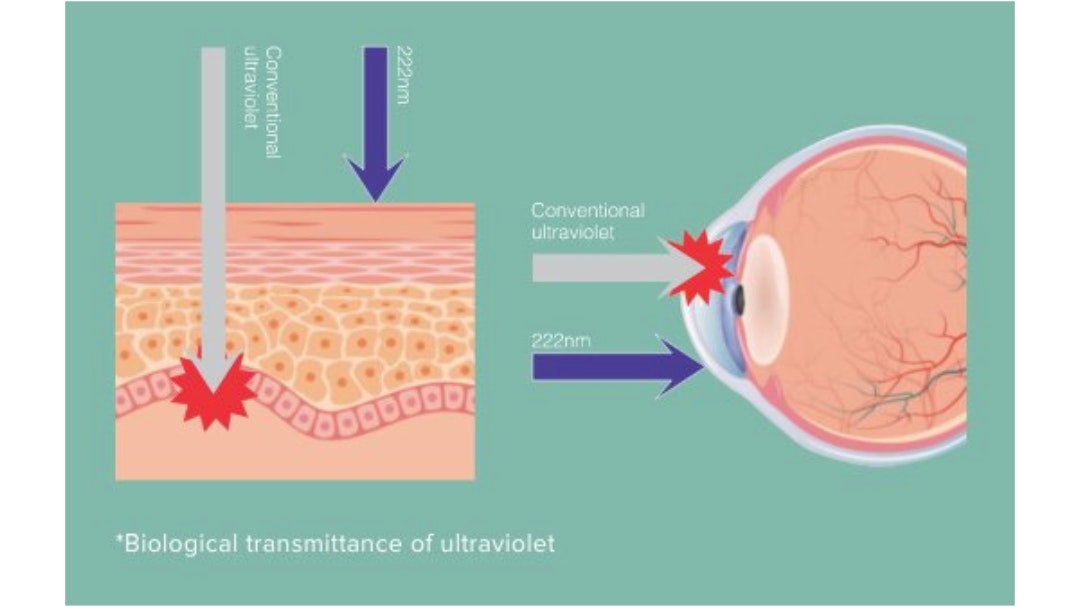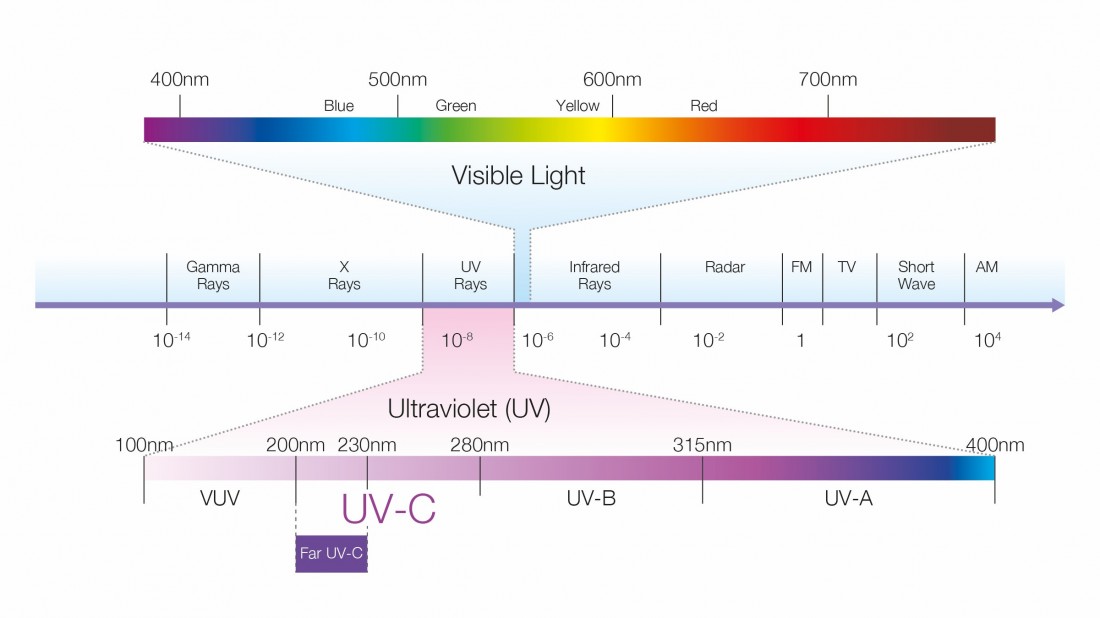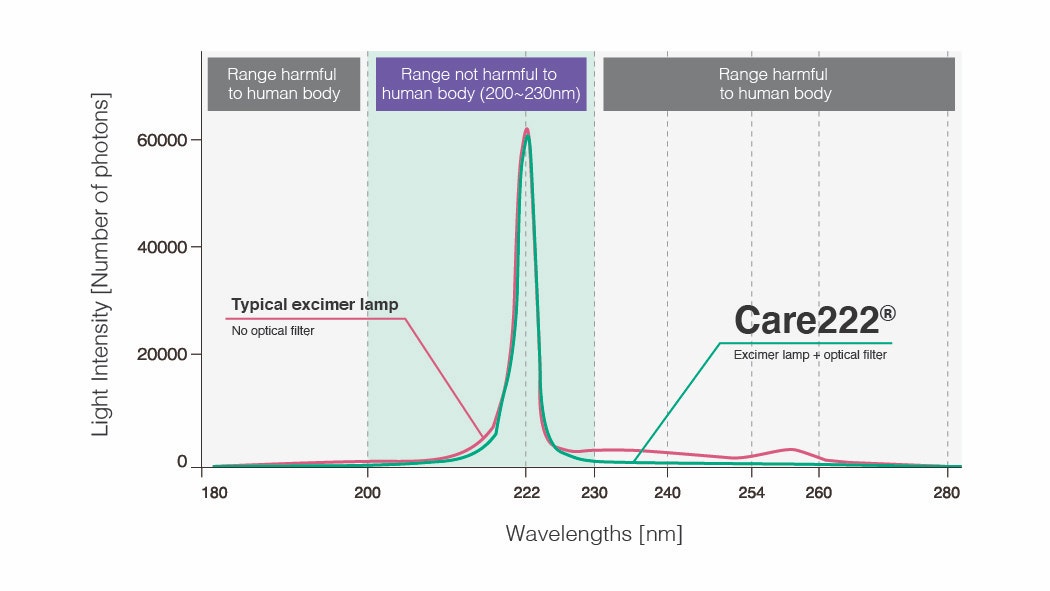 ---
Can Unit Specifications:
Height: 7.5"
Depth: 12"
Width: 8"
Weight: 3 lbs
Electrical: 90-305 VAC @ .5 A 60 Hz
---
Wall Unit Specifications:
Height: 12"
Depth: 3.25"
Width: 4.5"
Weight: 2 lbs
Electrical: 120 VAC @ .5 A, 50 Hz
240 VAC @ .5 A, 50 Hz
---
UVC Specification Sheets
---
Technical Information / Frequently Asked Questions
---
Additional Videos