Ultra Violet Cleaning Units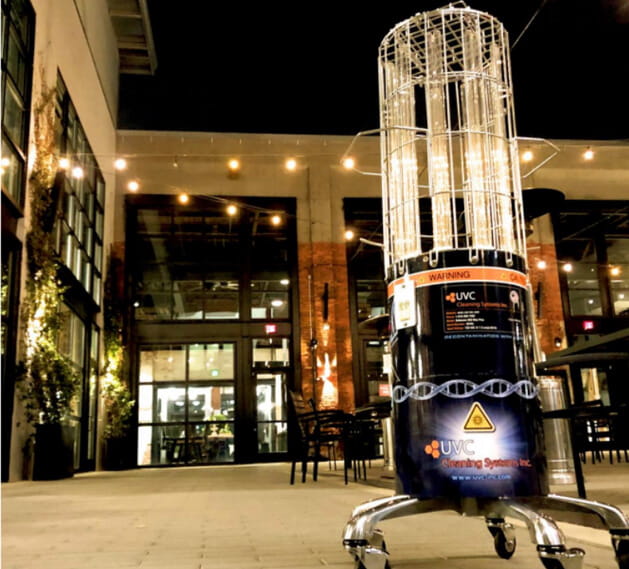 Proven to reduce contamination load including the Covid-19 (Sars Cov 2) virus, UVC light is proven and recommended by the Center for Disease Control to be an effective treatment in recycling PPE including N95 mask. Our mobile UVC products provide hospital-grade disinfection with proven results of up to 99.999% reduction load and create the following benefits:
Protection against harmful pathogens, decreasing the spread of bacteria and viruses

Improved ventilation and clean air changes

Eliminates most bacteria and viruses, limiting exposure to disease

Disinfecting surfaces and entire spaces and rooms, including patient rooms
High Powered UV-C Light Decontamination
From 20 to 2340 watts, our high-powered UV light systems allow for large area decontamination in less time. More power equals a more efficient reduction of microorganisms at further distances from the UV-C energy source.
Industry Best-Practice UVC Disinfection Choices
We offer the industry best practice 254 nm platforms that offer quick treatments without human occupation. Also, we offer 222 nm products in two unique patent pending designs where humans can be present during the decontamination cycling.
UV-C Light That's Simple to Use and Safe to Operate
Enjoy UV-C disinfection with easy and safe operation. Our systems feature flexible timer-based or intelligent dosing models that help determine the exact decontamination run time to achieve your disinfection goals. We offer many ancillary accessories to help get the job done quickly, repeatably, and efficiently.
Why Choose UVC Cleaning Systems Products?
Most manufacturers of surface and air UVC decontamination equipment specialize in medical devices, meaning they have designed products for hospital applications only. UVC Cleaning Systems manufactures equipment for many different industries, including:
Medical/Hospitals

Dental Practices

Long-Term Care Facilities

Schools/Education

Restaurants

Grocery Stores

And Other Commercial Buildings!
M15/20 Towers Boasts UV Dose Intelligence

The M15/M20 Mobile UVC decontamination device is specifically designed for maximum effectiveness, and ease of use to meet your infection control needs.
The M15/M20 is a family of products that is one of the most powerful systems on the market today. The M15/M20 utilizes a standard 15 or 20 amp outlet to provide world-class output and includes many features not available on the other UVC towers. Intelligent Dosing using onboard UVC sensors delivers a calculated log 4 kill rate targeted dose that is consistent and repeatable.
Features include:
Onboard Data Tracking

Intelligent Dosing

360 Degrees of Motion Detection

Integrated Emergency Stop and Lockout Switch

Cooling Fan
W15 Wall Mount Unit with Remote Control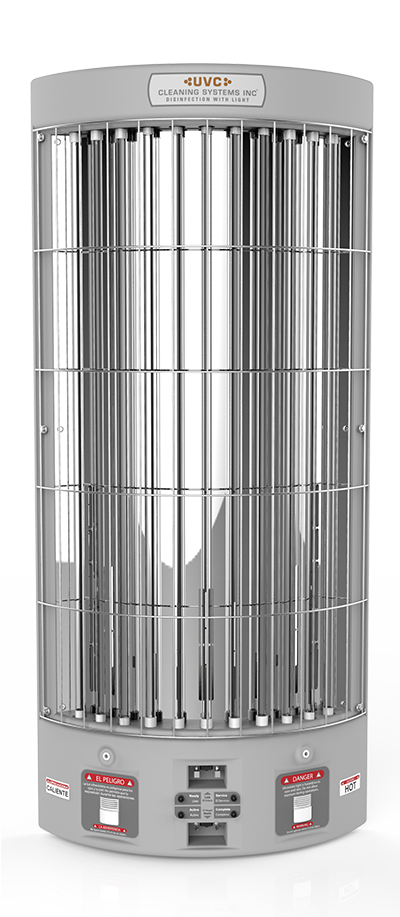 The UVC Wall Mount Unit is the perfect decontamination solution for your stationary application needs.
A single W15 model is proven to treat a room 16 ft (5m) by 13 ft (4m) in 15 minutes and reduce the colonization of Staphylococcus Aureus to a log 4 in a single treatment (see test report for details). Larger rooms or multiple areas can be treated by wirelessly linking up to 8 devices. More than one W15 in a single room can produce a very short UVC treatment cycle by positioning the devices on parallel or adjacent walls depending on room shape.
Features include:
11 UVC emitters

Dual technology motion sensors

External UVC sensors

Stainless steel protective cage

Emergency stop switch

Door hanger warning signs

Treatment tracking tablet

Multi-language quick start guide and user manual
The Safezone Family of Products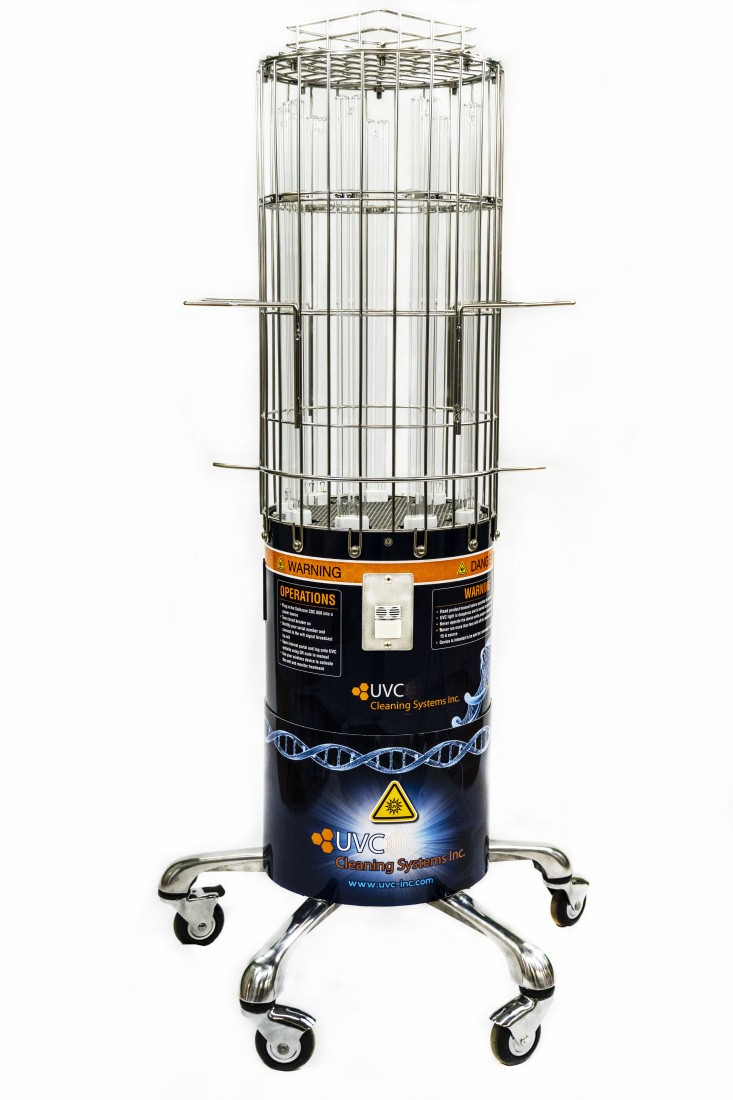 Our Safezone Family is the core of our cost-effective product line.
Being only 12" wide at its minimum point, the Safezone is very maneuverable and fits into almost any application, including installation in transportation vehicles and other more restricted locations. Designed to be run as an individual unit using a single standard power source, it is extremely flexible in its applications.
Weighing just 50 lbs, it comes with an included rolling caster base. Additionally, the tower pulls away from the caster base so it can be placed in a variety of areas.
Safezone 850 Max features include:
Stainless Steel Cage

Integrated Handle

Integrated Cord Wrap

Rolling caster Base

Medical Grade Casters

Wireless Remote Control
UVC Decontamination Pod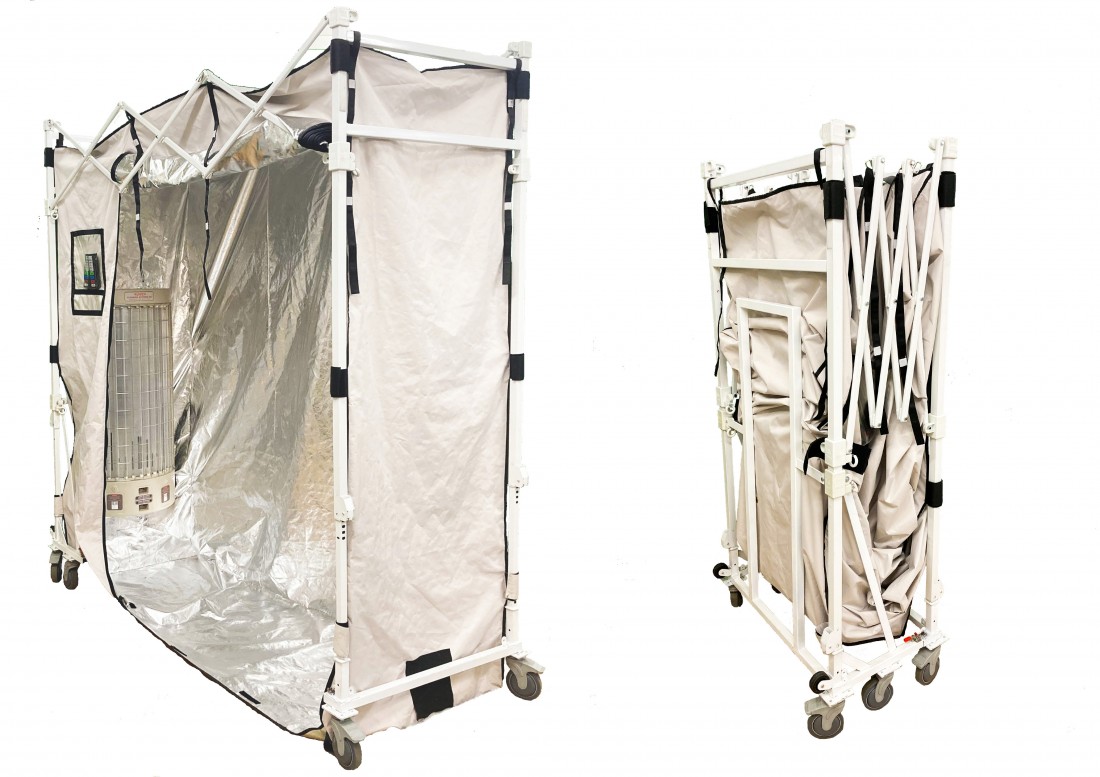 The UVC Decontamination Pod is a highly mobile and flexible system that is the perfect solution for decontaminating large items in an enclosed space.
Integrating our Wall mountable unit, the Pod provides extremely high output in the maximum space for your larger moveable items. This product is ideal for wheelchairs, IV stands, rolling carts, PC stations, PPE materials, or other custom applications.
Highly transportable via extremely durable casters to any location, this portable Pod is efficiently packed into a 75.5" H x 28" W x 36" D moveable size growing to a total Pod size of 84" H x 84" W x 36' D in just seconds. With the highly reflective interior material developed specifically for this application, a log 4 kill rate can be attained quickly and effectively in minutes.
Features include:
Integrated Wall Unit

Expandable Rolling Frame

Heavy Duty Casters

Stainless Steel Protective Cage

UVC Reflective Fabric

Wireless Remote
Far Field 222 nm Can and Wall Units

Our new and exciting Far Field 222 nm Can and Wall units are the future of decontamination.
The Far Field 222nm technology market continues to evolve, and UVC Cleaning Systems Inc. is at the forefront of innovative designs. The 222 nm wavelength products can now apply continuous UV decontamination while allowing people to operate normally within the environment.
Our two unique models provide distinctive patent-pending features that no other product on the market can match. Together, our product offerings are unchallenged, providing 360-degree coverage of continuous Far Field UVC in your facilities.
UVC Chamber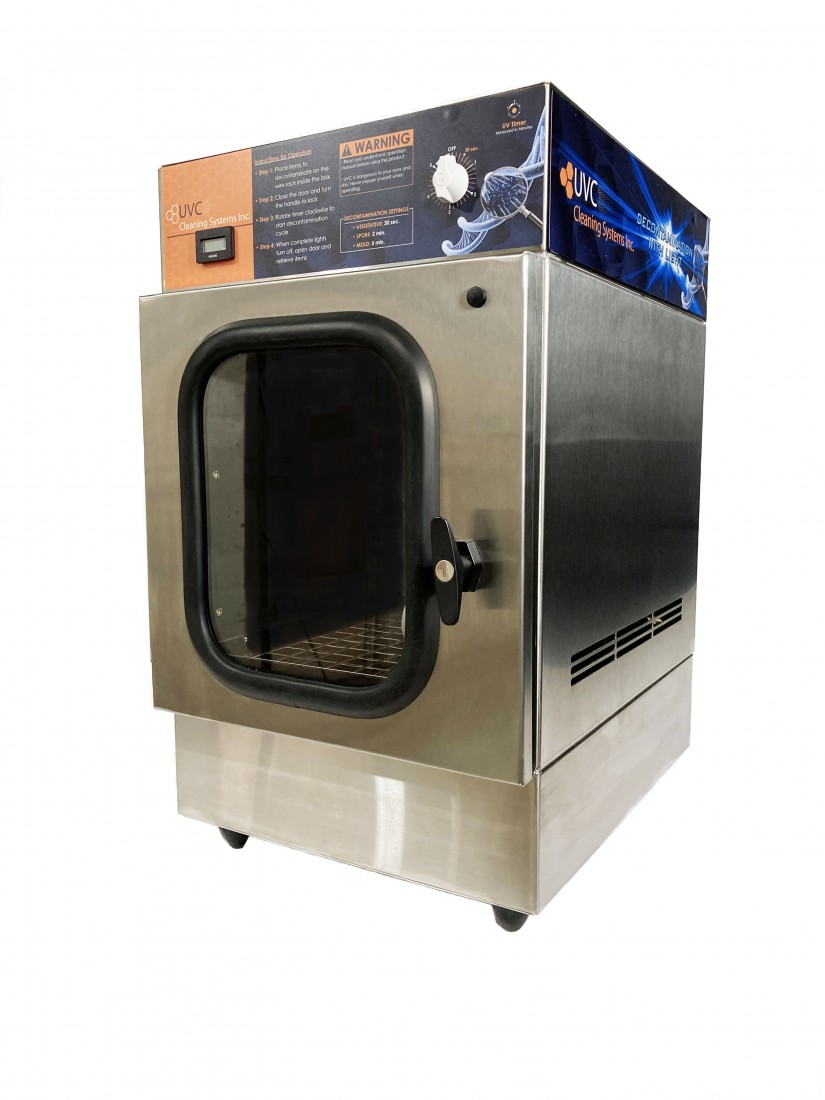 The UVC Chamber is the perfect decontamination solution for your everyday items.
The UVC Chamber provides a total of 360 watts of power from both above and below the target area, your items are quickly decontaminated and ready for use. The UVC Chamber comes with a slide-out drawer and can hold a 15" PC, or any other smaller device.
Like all of the UVC Cleaning Systems Inc. products, we used third-party testing indicators showing we inactivate many pathogens, including endospores like C-Diff in under a minute.
Features include:
1 Pull out drawer, upgradeable to 2

6 Bulbs @ 60 Watts

Upper and Lower UVC coverage

Integrated Fan

Integrated Door Lock