M15/20 Towers
The M20 / M15 Mobile UVC decontamination device is specifically designed for maximum effectiveness and ease of use to meet your infection control needs.
The M20 /M15 have been specifically designed for the institutional environment.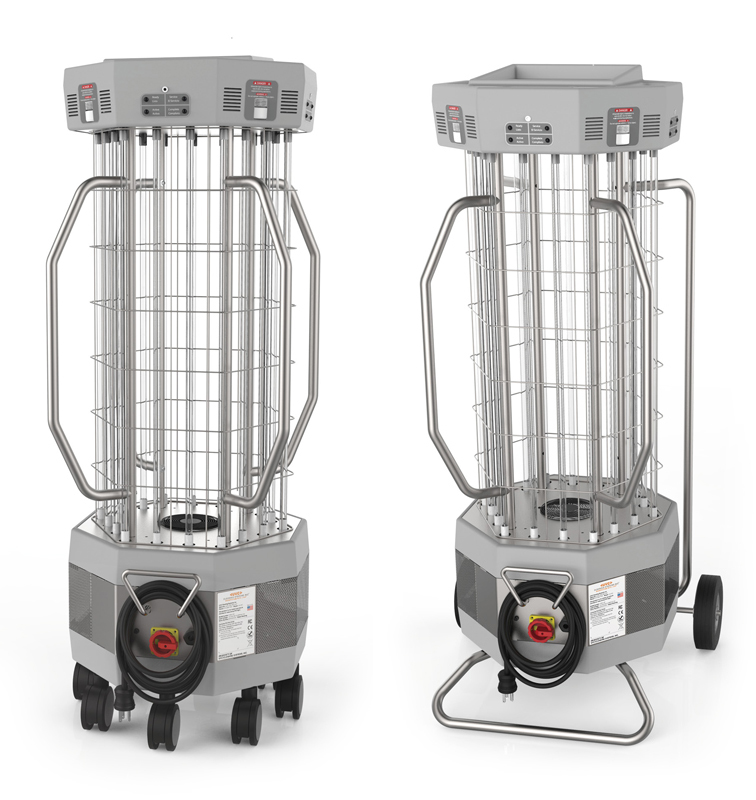 The M15/M20 is a family of products that is one of the highest powered systems on the market today. The M15/M20 utilizes a standard 15 or 20 amp outlet to provide world-class output and includes many features not available on the other UVC towers. Intelligent Dosing using onboard UVC sensors delivers a calculated log 4 kill rate targeted dose of energy that is consistent and repeatable.
Dual technology motion detection sensors keep the surrounding areas safe. The easy to use remote control can be operated quickly and effectively. Additionally, you can track your systems with our unique RFID/SD Card system that can generate cloud based statistics. With multiple mechanical movement configurations, the M15/M20 product will provide the necessary output power to quickly and effectively eliminate pathogens while tracking your coverage, improving your decontamination needs.
Configurations:
Handcart or Caster
M15 (Amps) or M20 (Amps)
15 or 18 Lamps
Hospital or Commercial grade
120 V or 240 V
Features:
Onboard Data Tracking
Intelligent Dosing
360 Degrees of Motion Detection
Link up to 8 Units
Integrated Emergency Stop and Lockout Switch
Cooling Fan
Caster Unit Specifications:
Height: 60.5"
Depth: 21"
Width: 22"
Weight: 124 lbs
M15 Electrical: 120 VAC @ 15 A or 20 A, 60 Hz
M20 Electrical: 240 V @ 13 A, 50 Hz
Handcart Unit Specifications:
Height: 60.5"
Depth: 26"
Width: 27.5"
Weight: 126 lbs
M15 Electrical: 120 VAC @ 15 A or 20 A, 60 Hz
M20 Electrical: 240 V @ 13 A, 50 Hz

UVC Product Catalog